APCOA Training is an accredited WAMITAB training centre and is now offering our new Environmental Enforcement Training course.
Training is an important requirement for both new and existing clients. APCOA Training have a dedicated central training team who work with delegates during their induction as well as offering refresher training. We provide delegates with courses such as
CEO Roles and Responsibilities
Conflict Management Training
Environmental Enforcement Training (NEW)
and more...
Our Training Venues
Uxbridge
Southwark
Heathrow
Hull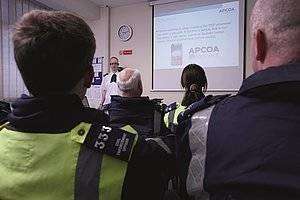 ---
Contact us
To find our more about delegate rates or group bookings, contact us now at training(at)apcoa.com